Planning, Design and Engineering
As a manufacturer of our proprietary offshore accommodation modules, HB Rentals maintains rigorous product development discipline in new product conceptualization, requirements definition, design and engineering execution. Whether it is a single, custom offshore module or an accommodation complex, we design every aspect of the product or project from the interior layout to how many levels we can stack to the configuration for walkways, stairs, railings and other support infrastructure.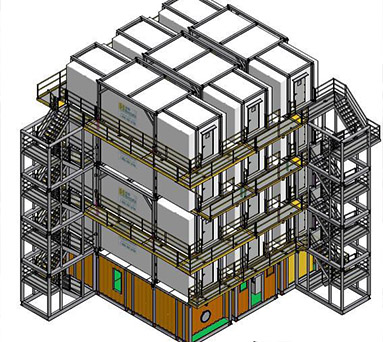 When we initiate a custom project, we start with a requirements definition. With our expert team across sales, project management and engineering, we will work with your team to fully capture all the specifications necessary to successfully execute the project.
As a custom project advances from pre-sale planning to post award, our project management team initiates actions across engineering, fabrication, supply chain, logistics and installation support. The engineering team uses 3D design software programs such as SolidWorks and other software tools to design and model both individual modules and stacked and linked temporary living quarters complexes.