Housing for the Oil & Gas Industry
Oil and gas drilling is HB Rentals core market for both oil field housing and offshore temporary living quarters on both platforms and vessels. We are recognized in the market for offering a comprehensive end-to-end package of all utilities and services necessary to keep a remote project site operating and productive. Our comprehensive drill site accommodation solution, for both land and offshore projects, includes the full range of operating essentials – water, waste water removal, communications, power, lighting and other essential rig site auxiliary utility services.
HB started in the United States and through acquisitions as well as organic growth expanded internationally into the Gulf of Mexico, Offshore Mexico, Offshore Brazil, Trinidad. Given that we provide TLQ accommodation on vessels or platforms, we can go wherever there is offshore drilling, construction, maintenance, or decommissioning work. We go where your vessel or platform goes, from shallow to deep water projects. We also offer multiple offshore accommodation product lines ranging from ABS/USCG A60, to DNV A60 to fiberglass and steel stackable.
Offshore Living Quarters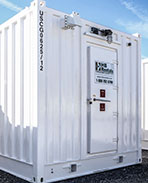 Featured Case Study: Mississippi Canyon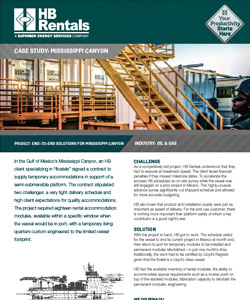 In the Gulf of Mexico's Mississippi Canyon, a client required rental accommodation modules, available in a specific window, with a temporary living quarters custom engineered to the limited vessel footprint.
See how HB delivered in the case study.