Offshore Accommodations: Installation and Commissioning
Accommodations Installation
The installation phase of a project is where all the work effort comes together. From logistics management, fabrication, outfitting interiors, engineering of stairs and platforms, integration of operating essentials such as water, sewage or power and fulfilling all the necessary permitting and certification requirements, installation is the most critical stage in project execution. Every project no matter how small has a lead person in charge. Very large installations will be managed by an experienced project manager whereas small projects, such as single module installation will be managed by a service technician.
For large projects we will create an installation plan as based on an initial site survey but most projects do not allow for this opportunity as vessels and platforms are difficult to access. If we do not have an initial site survey many installation decisions are made when our personnel reach the site. We will start with a Job Safety Analysis (JSA) which lists all steps in the installation process and their associated hazards. The JSA also identifies corrective actions if hazards are encountered and the scope of the plan includes HB Rentals, client and third party personnel, if applicable.
Before installation work commences, we make sure we have the necessary permits and approvals to proceed. The regulatory approval process is one of the most challenging aspects about managing a project as the regulatory rules are constantly evolving across the multiple certification bodies in the global markets that we serve. When on the project site, we ensure that we follow strict procedure with lock out/tag out permits as we conduct the physical installation work. Any energy source whether it be electric, water, pneumatic or any type of pressure is tagged and locked out as we conduct our work. We also have fall protection and rescue plans, which are prepared on site and advance of beginning the work. The plans are reviewed and approved by the client's representative (person in charge on the site) as is the JSA and all lock out permits.
A critical understanding about the installation process is that each project is unique and unplanned or expected challenges are encountered with each vessel or platform project. Our personnel on site, whether it be a seasoned project manager or an experienced service technician with multi-disciplinary skills must have the judgment and ability to work through the challenges to ensure a smooth, safe and successful installation.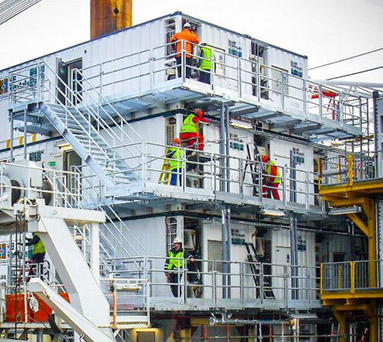 Accommodations Commissioning
Once the installation work is complete – we start testing. We turn on all the electrical appliances, test the receptacles the lights, galley equipment, any of the operating essentials such as lift pumps, literally anything with an on/off switch. We test the water supply, hot water, lavatories, showers and water pumps, and source of supply or use of water. We conduct a complete inspection of communication equipment – VSAT, internet, phone and fax lines to ensure all communications are operational and up to our standards. If allowed by the client, we photograph the work for our records and at completion of commissioning submit a work order for client sign off and authorization of the installation and commissioning work.