ABS/USCG/PAM Package Completed for 76-Member Crew of SPAR Platform Operating in Gulf of Mexico
Oct. 29, 2019
BROUSSARD, La. — HB Rentals has completed the engineering, delivery and installation of a twelve-module ABS/USCG living quarters package in support of a SPAR production platform operating in the Gulf of Mexico. The package will provide living and working space for 76-member supplemental crew performing the completion phase of a three-well project.
A client needed to accommodate an additional 76 personnel over a 4-month period in order to complete a Gulf of Mexico project. The package required temporary living quarters along with additional galley, office, and welfare space for the crew. In addition, since the installation location was a SPAR production platform, the quarters needed to be ABS/USCG/PAM certified.
HB's operations and in-house engineering departments designed and proposed a complete solution that provided the requested beds, office space, galley and crew welfare modules. The fourth level of the stackable units was constructed to seamlessly connect to the SPAR platform, allowing crew members access between the temporary accommodations modules and the platform from both the first and fourth level of the package.
HB's Stackable Solution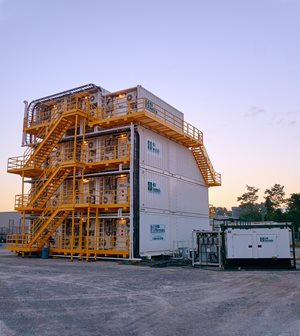 Six 12-person sleeper modules, each containing 12 beds and 2 bathrooms, with personal storage space for crew members
One 4-person sleeper/office module with four beds and office space
One office module for additional workspaces
One galley module for food prep, storage, and cooking
One storage/conference module for additional food storage space and a conference room
One diner/recreation module with tables for eating and an HD TV
One laundry/change room module with washers and dryers, lockers, and a bathroom.
Awarded the contract, HB's in-house engineering team worked closely with the client's engineering team over the next few months to finalize the requirements demanded of installing temporary quarters aboard a SPAR platform. In addition to the standard layout drawings, HB's engineering team provided the structural load calculations necessary for the installation offshore.
A Factory Acceptance Test was performed at HB's Broussard, Louisiana facility the week prior to the delivery date.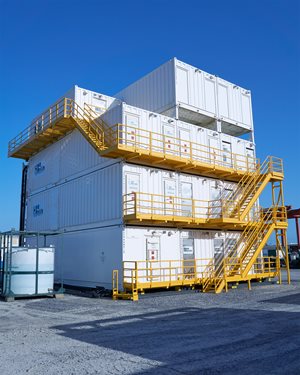 The operations team stacked and connected the equipment, duplicating the install on the SPAR.
The client and HB's operations manager inspected the entire package and function-tested everything to ensure all the equipment was working correctly. Find out more about HB Rentals' Factory Acceptance Test.
A list of modifications was compiled consisting of adding additional lockers to certain modules and changing the type of chairs being provided.
After FAT completion and the client acceptance, the equipment was modified, dismantled, and tagged for easier installation offshore.
Equipment was transported to the Gulf of Mexico SPAR for a safe and successful install overseen by an HB supervisor.